The University of Cambridge community is deeply saddened to hear of the death of Her Majesty The Queen.
Vice-Chancellor Professor Stephen J Toope said: "This news brings great sorrow for the United Kingdom as a whole, for the Commonwealth, and most particularly for members of the Royal Family, to whom we extend our heartfelt condolences.
"Her Majesty The Queen's reign defined the United Kingdom of the 20th and early 21st centuries. Her Majesty's devotion to public service and the common good, her dignity, her sense of duty and her strong moral compass, will always be an inspiration."
Queen Elizabeth II had a long association with the University through her family, and one that she characterised as happy. Her father King George VI, two sons, Princes Charles and Edward, and two cousins, Princes William and Richard of Gloucester, all studied at Cambridge. A grandson, Prince William, was created Duke of Cambridge and spent a term studying at the University, while her husband Prince Philip, Duke of Edinburgh, was an enthusiastic and supportive Chancellor from 1976 to 2011.
The Queen visited the University and Colleges on numerous occasions during her reign, seeing Cambridge through a time of great change. At the time of Her Majesty's first visit as monarch in 1955, women had only recently been admitted to full degrees, the great majority of undergraduates were male, and student behaviour was perhaps a little more colourful: several veterinary students attempted to welcome the Queen by laying down their gowns for her to walk over, in homage to the famous story of Sir Walter Raleigh and Queen Elizabeth I.
While maintaining her customary neutrality and rarely taking up a public position on an issue, during that visit The Queen chose to tour Newnham and Girton, both Colleges for women – perhaps a quiet signal of support. In 1948 Her Majesty Queen Elizabeth The Queen Mother had been the first woman admitted to a degree in the Senate House.
On her most recent visit, in 2019, The Queen lunched with Fellows, staff and students at Queens' College – of which, like The Queen Mother, she was Patroness.
Dr Mohamed El-Erian, the President, said: "Queens' College was honoured to have Her Majesty as our Patroness. We will always remember with deep affection and great appreciation her visits to the College. On every occasion, she engaged our students, Fellows and staff in her uniquely interesting, elegant, and gracious manner.
"We are enormously grateful for all her wonderful contributions to Queens', including how she inspired so many members of our community. She will be sorely missed."
The University has a long history of connections with the Crown. Its existence as a body entitled to regulate its own affairs was confirmed in a writ issued by King Henry III in 1231. Monarchs and members of their families have founded Colleges (King's and Queens' most obviously, but also Trinity, St John's and Christ's); and have been both Chancellors and students. The Crown has established or designated certain professorships as Regius Professorships. The Queen designated two such during her reign: the Regius Chair of Botany in 2009 and the Regius Chair of Engineering in 2011 – the latter to commemorate the Duke of Edinburgh's 35 years as Chancellor.
Emeritus Vice-Chancellor Professor Sir Leszek Borysiewicz said: "I had the privilege of meeting Her Majesty The Queen on several occasions. When she opened buildings and attended major events in Cambridge, she always engaged warmly with our staff and students as well as showing a continued interest in the University.
"On each occasion it was an honour and pleasure to meet with her, particularly in the knowledge that she always valued Cambridge University's contribution to the education and wellbeing of the United Kingdom and Commonwealth."
Remembering Queen Elizabeth II​
Great St Mary's, the University Church, will be open 9am to 6pm daily, and a Book of Condolence, provided by the City of Cambridge, will be available to the public.
There will be spoken services on Friday 9 Sept and Saturday 10 Sept at 9am, 12noon, 6pm, as well as brief prayers held on the hour.
Details of an ecumenical Act of Remembrance to be held at the University Church will be announced shortly on Great St Mary's website.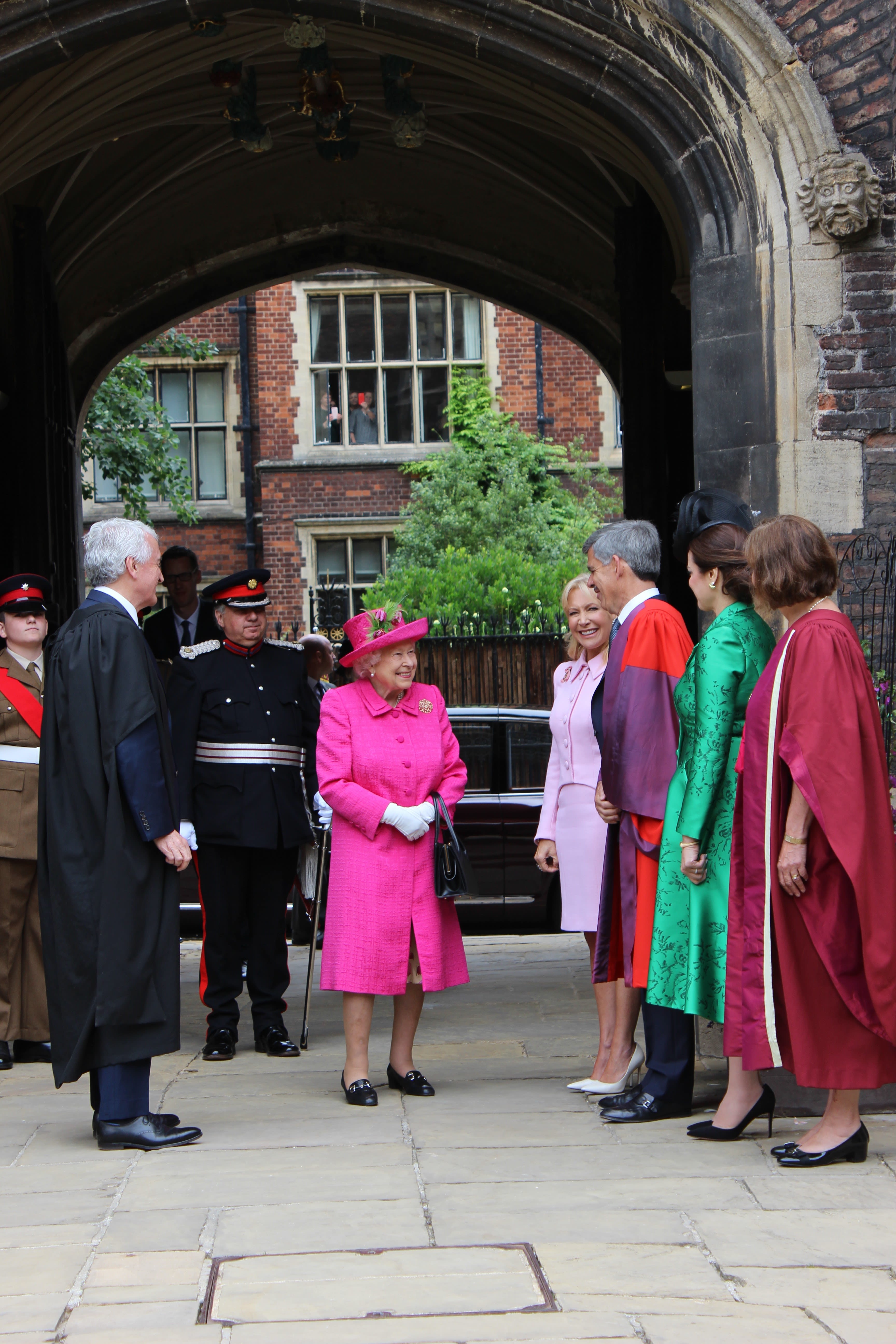 The Queen on her most recent visit to Cambridge, in 2019, meeting Fellows and students of Queens' College, of which she was Patroness.